Here at Brasstown Craft Chocolate, chocolate itself is considered to be almost some kind of deity. That's what we have dedicated our lives to and that's what we want to spend the rest of our lives doing. But the entire life of doing the same thing over and over, as much as you love it, might get a little too much, right? That's why we improvise. We like to jump out of the daily routine and let our minds wander to those strange places where you get all the craziest and the best ideas from. And then we try to make it happen. Sometimes we fail… actually, most of the time, we fail. But when we succeed… well, we make a chocolate out of it, obviously!
Here we are going to share some of our favorite chocolate craziness. We know it will sound strange at first, but don't be afraid of new stuff. Allow yourself a break from everyday stuff, and try out at least one of these extraordinary ideas.
Sea salt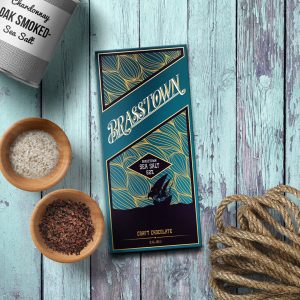 This had to be the first on our list. This is one of the best chocolate combos you can imagine. Is this salty? Yes, it is. Is it chocolaty? Yes, it is. Your tongue will be confused, your mind will probably freak out, but you will enjoy it, and chocolate will never be the same. Our Sea Salt Brasstown Chocolate bar is sold almost twice as much as the rest of the bars we make. Apparently, the reason for this is fairly simple, as one of the most famous chocolatiers explained: "Chocolate's one of the most craved foods in the world, but we also crave salt. And it seems like the combination of the two has just struck a chord with so many people. It's really unbelievable".
Mushrooms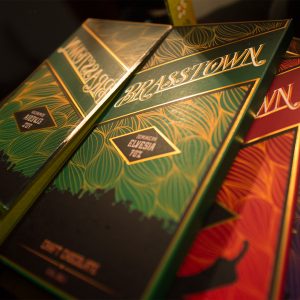 To explain why this combination isn't as scary as you think, we will need a little bit of chemistry. Apparently, both mushrooms and chocolate contain aldehydes (a compound that imparts nuttiness) and pyrazines (which enhance roasted flavors). Also, the earthiness shared by cocoa and mushrooms likewise make them complementary. Since the cacao beans have a different flavor depending on the part of the world they are grown at, we can now locate where the beans with the best earthy aroma are coming from – the Dominican Republic. So if you ever decide to test this one, our Brasstown Elvesia Chocolate bar, made from those exact cacao beans from the Dominican Republic, would definitely be the one to go for.
Meat & Veggies
Believe it or not, this is one of the oldest weird chocolate combos. It was basically invented in the Aztec Empire, some 6 centuries ago. It's very important here to say that we don't mean the sweet, milk chocolate or anything like that. Cacao beans alone are far from sweet, hence the chocolate without added sugar is quite bitter. So here are some of the recipes if you are in the mood for experimenting with your Sunday lunch.
And if you are not into the meat that much, we have some vegetarian options too.
Beer
If you decide that this is your call, beer, and chocolate, there is something called "the two C's" you should pay attention to – C for compare, and C for contrast. What this basically means is that the aromas and notes that best go together (and this doesn't only go for the beer-chocolate combination, but for many other unusual food combos) are either very similar and literally can be compared to each other or they are on the completely opposite side of the tasting spectrum. That's why a strong, bitter, dark chocolate goes perfectly with a pint of dry Irish stout, but it's also a great companion to a sweet beer such as Leffe Blonde. Some companies have taken this combo quite seriously, and they've started making a chocolate stout. Apparently, many of those who've had the chance to try this liquid magic had only one question – why did it take them so long to come up with this?
Getting hungry?
We definitely are. Especially for some fine chocolate, but there are a lot more recipes out there to discover. Would you try any of these? Or have you tried them already? Do you have some other wicked chocolate combos to recommend? Let us know in the comments below.